Did you know about 85% of consumers use the internet to find local businesses, including nearby apartments. As a property manager If you're not using digital advertising, you're missing a chance to reach new tenants and generate more leases.
Instead of missing opportunities this year, consider the benefits of apartment marketing with pay-per-click (PPC) ads. PPC advertising can help you reach prospective clients. You can use precise targeting to save valuable time and money, too.
On the fence? Keep these 10 amazing benefits of PPC advertising in mind.
With Google Ads for apartments, you can learn how to generate multifamily apartment tenants with ease. In fact, PPC could benefit your multifamily apartment SEO, too. 
Keep reading to discover the many amazing benefits of PPC advertising with Google Ads today!
What is Pay Per Click (PPC) Digital Advertising?
Pay per click is a form of digital advertising that allows your company to provide ads that are only paid for when a consumer clicks and interacts with the actual ad. PPC ads can be images, videos, text, links etc. There are numerous pay per click marketing channels to use but for commercial real estate some of the most effective pay per click ads, are managed on LinkedIn and Google because of the targeting capabilities.
They are made unique to your brand and your specific offerings. They are made to target consumers that are specifically searching for services and products that your brand is offering.
PPC ads are typically those ads that you see when surfing the web appearing as an ad at the top of the search engine results page or an ad that you see while scrolling through your favorite social media outlet. Essentially PPC ads tend to come in many different forms.
How Does PPC Work?
Typically PPC works by creating an ad campaign and deciding on the objective of the ad and the specific keywords that you want to rank and appear for which provides you with a much heightened chance of being seen by the right audience.
Once you have decided the things that you want your ad to address and cover, the next steps would be to identify your target audience, the geographical location of where you want the ad to appear and when you would like the ad campaign to begin.
The next step is to decide the amount of money that you would like to spend on the ad campaign and the amount of money you would like to pay per ad click. After that is all done you can begin to run your ads.
How Much Do PPC Ads Cost and Why?
The cost of PPC advertising for multifamily apartments is normally based on your desired budget. You are able to decide the amount of money that you would like to designate to your PPC campaign.
Once that amount is allotted for the month you are then able to set a daily budget from which will be used to determine the amount you will pay per click for your ad. Platforms allow you to choose your desired budget so that you have a fair chance to be able to utilize the PPC services available.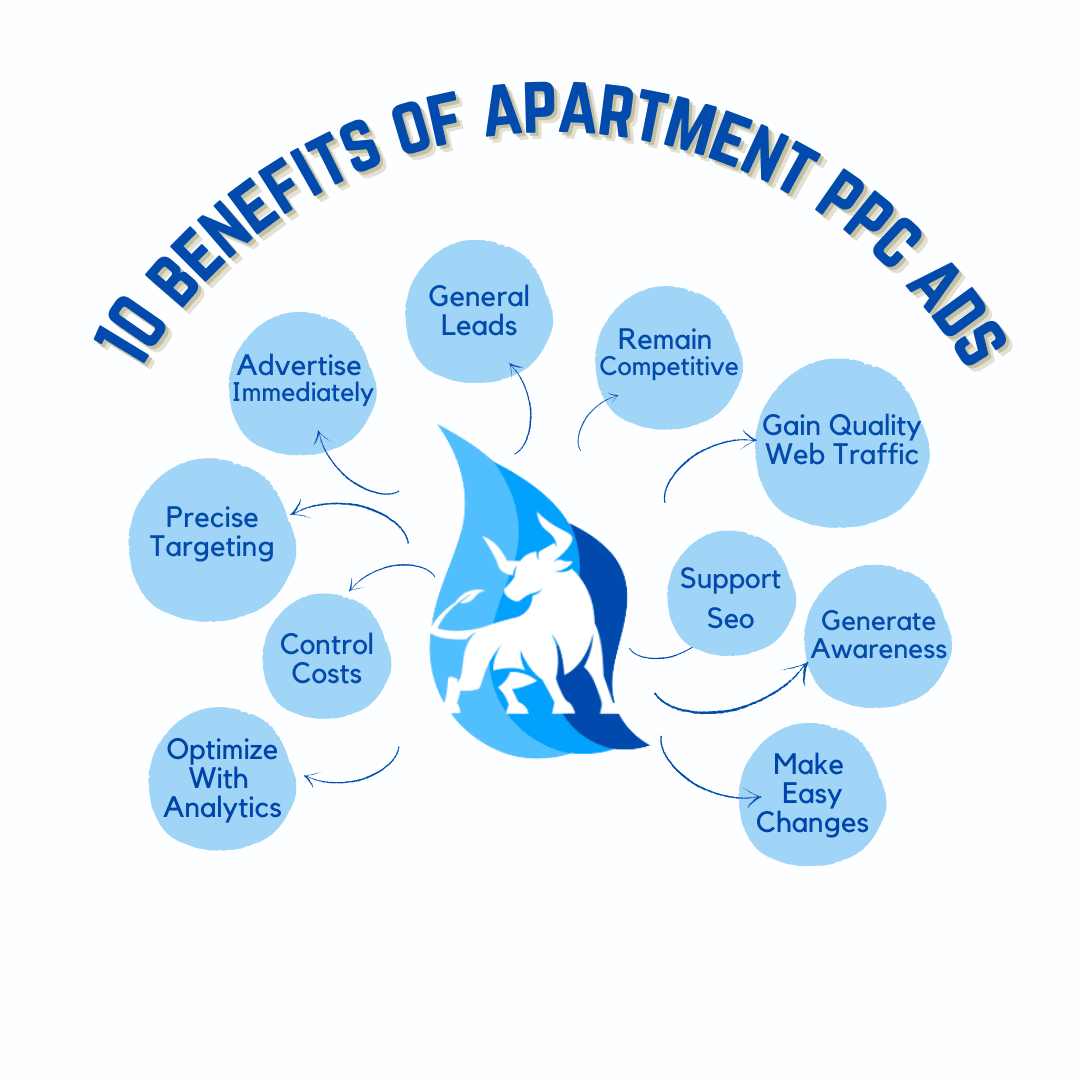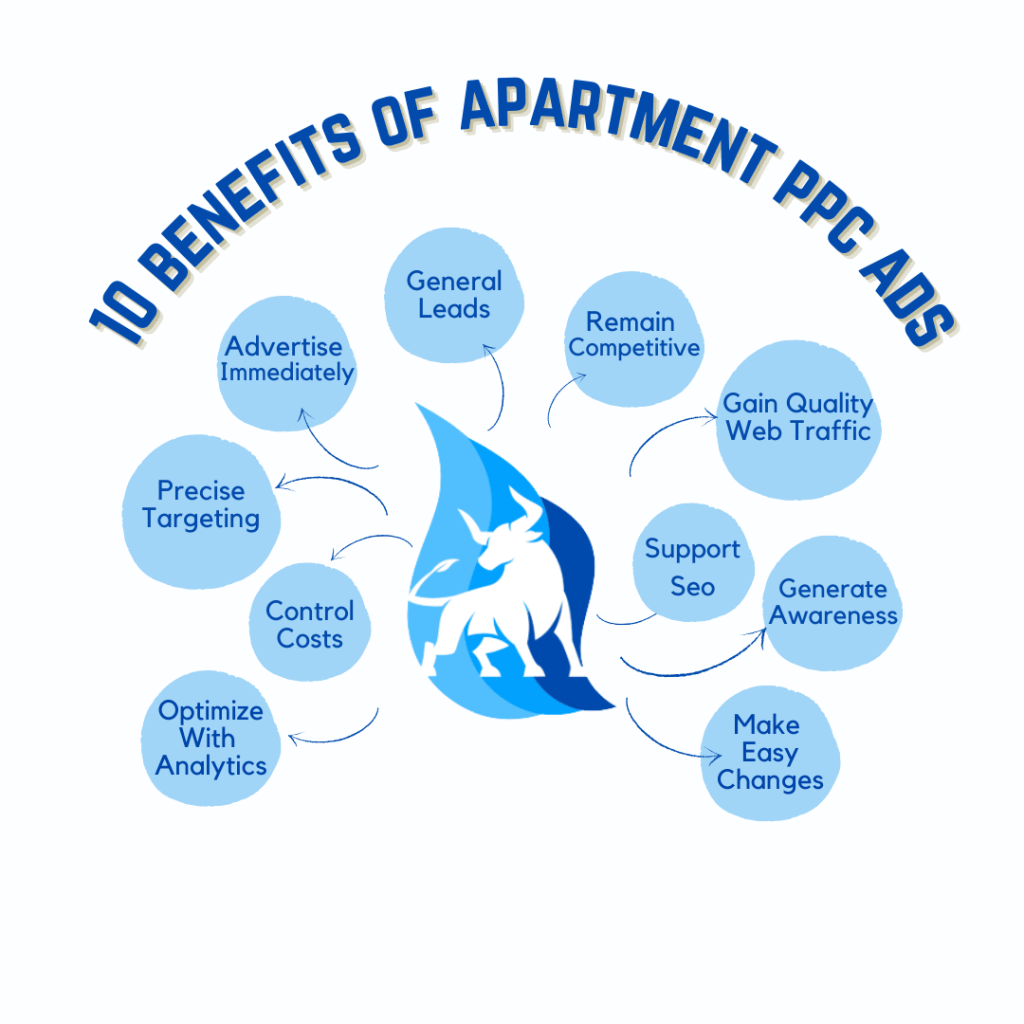 1. Precise Targeting
One of the top benefits of Google ads for apartments is precision.
With traditional advertising methods like flyers and billboards, your ads will appear in front of everyone and with a shot gun approach like that you can very easily waste valuable time and money as a result. Plus even if traditional ads work you might struggle to appear in front of your ideal tenants.
Luckily, you can use real estate Google adwords to reach potential tenants based on keywords and demographics with near laser accuracy. For example, you can target an audience based on:
Age
Gender
Household income
Marital status
Location
Using precise targeting can help you personalize your ad copy. Personalization can make it easier for you to connect with prospective tenants. For example, you can highlight features with families in mind.
In fact, personalization can deliver eight times the return on your marketing spend.
You can use apartment marketing ideas like display ads to show off your apartment buildings, too. Then, you can attract and engage prospective tenants. Your precise messaging could help you appeal to their interests and needs.
Otherwise, you could waste time with a broad approach.
2. Advertise Immediately
With some apartment marketing ideas, it can take time before you start appearing in front of your target audience. If you want to learn how to generate multifamily apartment tenants fast, leverage the use of a paid google search.
You can create your PPC advertising campaign in Google Ads and start appearing in front of prospective tenants right away.
With marketing methods like magazine ads and flyers, you have to design, print, and send your materials. The entire process can take weeks or even months. In that time, you've missed a chance to appear in front of prospective tenants.
With PPC advertising, you can start the same day you create your campaigns. Then, you can generate brand awareness, web traffic, and leads immediately.
You can even use PPC ads to announce limited-time offers or incentives to draw in tenants.
With PPC advertising, you won't waste an opportunity.
3. Gain Quality Web Traffic
Are you struggling to generate website traffic with multifamily apartment SEO? Google looks for websites that generate regular traffic. If you're not generating traffic, your SEO ranking won't improve.
Your website won't appear when someone searches for local apartments.
Instead of missing an opportunity, use PPC advertising. Prospective clients can click on your ads to visit your website. Then, they can explore your apartments and contact you directly.
In fact, PPC ads can generate twice as many website visitors as SEO. About 65% of people click on PPC ads, too.
With each click, you'll generate awareness and website traffic. You can improve your SEO rankings, reach more customers, and improve your apartment marketing strategy.
4. Generate Quality Leads
As you start generating more website traffic, you can also generate leads.
Create PPC ads with engaging, eye-catching images. Use a strong call to action to encourage conversions, too. Then, you can learn how to generate multifamily apartment tenants through your ads.
Consider using remarketing ads as well.
Remarketing ads will appear in front of previous website visitors on either both mobile or desktop devices You'll get a second chance to turn those website visitors into leads. Which will help your ROI could improve at the same time.
5. Support SEO
Remember, PPC advertising could help support your search engine optimization (SEO) efforts.
Google will notice you're generating more traffic to your pages. It will boost where those pages appear on a search engine results page (SERP) . A higher search engine ranking can help you generate more website traffic and leads.
If your SEO strategy is faltering consider hiring a real estate SEO specialist or, add PPC to your apartment marketing strategy. 
6. Remain Competitive
If your competitors are ranking ahead of you on search engine result pages, using SEO and PPC this year. You can boost your ranking with Google Ads for apartments. As your ranking improves, you'll reach customers first.
You can get ahead of the competition and boost your business with ease.
7. Generate Awareness
If people don't know your multifamily apartments exist, they might not contact you. Generating brand awareness is key. With PPC ads, you can generate awareness and recognition.
Potential tenants will remember seeing your PPC ads. They'll visit your website directly when they're ready to move. Then, you can turn those prospective tenants into real tenants!
8. Control Costs
One of the benefits of PPC advertising is the control you will have on your ads management .
If you want to adjust your ad spend, you can make the change immediately. Allowing you to avoid overspending. You can even automate your campaigns to make it easy.
9. Make Easy Changes
You can also use Google Ads to make quick, easy changes to your campaigns. Maybe you want to adjust your targeting parameters. Perhaps you want to change the wording in your ads instead.
With traditional advertising like billboards and flyers, you can't make changes after the fact. You could leave a typo in your ads. You might miss a chance to generate leads as a result.
With PPC, you can make changes whenever you want!
10. Optimize With Analytics
Google wants you to achieve a positive ROI through paid search advertising which is why you should review your analytics regularly. Because, It will help you determine which ads are helping you generate high quality tenants.
Then, make informed adjustments to your campaigns to boost your ROI.
Conclusion: 10 Benefits of PPC for Multifamily Apartment Marketing
Multifamily apartment marketing doesn't have to feel complicated. Instead, consider these 10 benefits of PPC. With Google pay per click ads you can generate multifamily apartment tenants without stress.
You can save time, stress, and improve your ROI with apartment digital marketing today. 
Need help using these apartment marketing ideas? We're here for you!
Hire Cindtoro to Run Your Multifamily Real Estate Pay Per Click (PPC) Ads
Not quite sure where to begin with beginning your apartment PPC Ad campaign, come to our team of digital advertising specialists at Cindtoro and have us do all of the work for you. Our aim is to meet all of the needs of your company by creating the right type of real estate ads that will attract the correct target audience. We encourage our clients to make the most of the PPC services because the yield is typically far more beneficial than the amount spent.
We want to get your apartment complex in-front of the right audience as they are searching for an apartment complex to rent from. Give us a call to hire our team of multifamily Google advertising specialist today.