Nearly 50% of businesses fail within the first five years in the United States. However, there are measures you can implement to help avoid this.
It should come as no surprise that search engine optimization is one of the most important responsibilities that business owners have. This is especially true when it comes to technical SEO.
We've put together a brief guide on how to properly conduct a technical SEO audit. This will help ensure that your company stays on the right track.
What Is a Technical SEO Audit Checklist?
As the name suggests, a technical SEO audit is a comprehensive review of your website's technical elements to ensure they are optimized for search engines. It also includes using an audit tool to review the website elements that might be causing problems with your SEO, such as broken links and structure.
When done correctly, a technical SEO audit can help you identify and address potential problems before they become an issue.
How Does It Work and Why Is It Important?
Audits function by comparing the website against a technical SEO audit checklist. The checklist is essentially a comprehensive list of best practices that experts have identified as being important for SEO.
It's important to have this checklist because it's easy to overlook some of the technical elements when creating or updating a website. Additionally, search engine algorithms are constantly evolving, which means that what worked when the website was created may not be optimal today.
A technical SEO audit is the best way to ensure that your website is up-to-date and optimized for search engines.
How Can It Help My Website in the Long Run?
If you use a technical SEO audit checklist to address any issues found during the audit, you can create an optimized website that can have far-reaching impacts in the long run.
This can include improved organic search visibility, reduced bounce rates, faster page loading speeds, and a better user experience. Additionally, you'll be able to take advantage of new features that may come available with updates to search engine algorithms.
All of this will help improve your website's overall performance in the long run. So, be sure that you do not overlook this attribute.
What Does an In-Depth Audit Entail?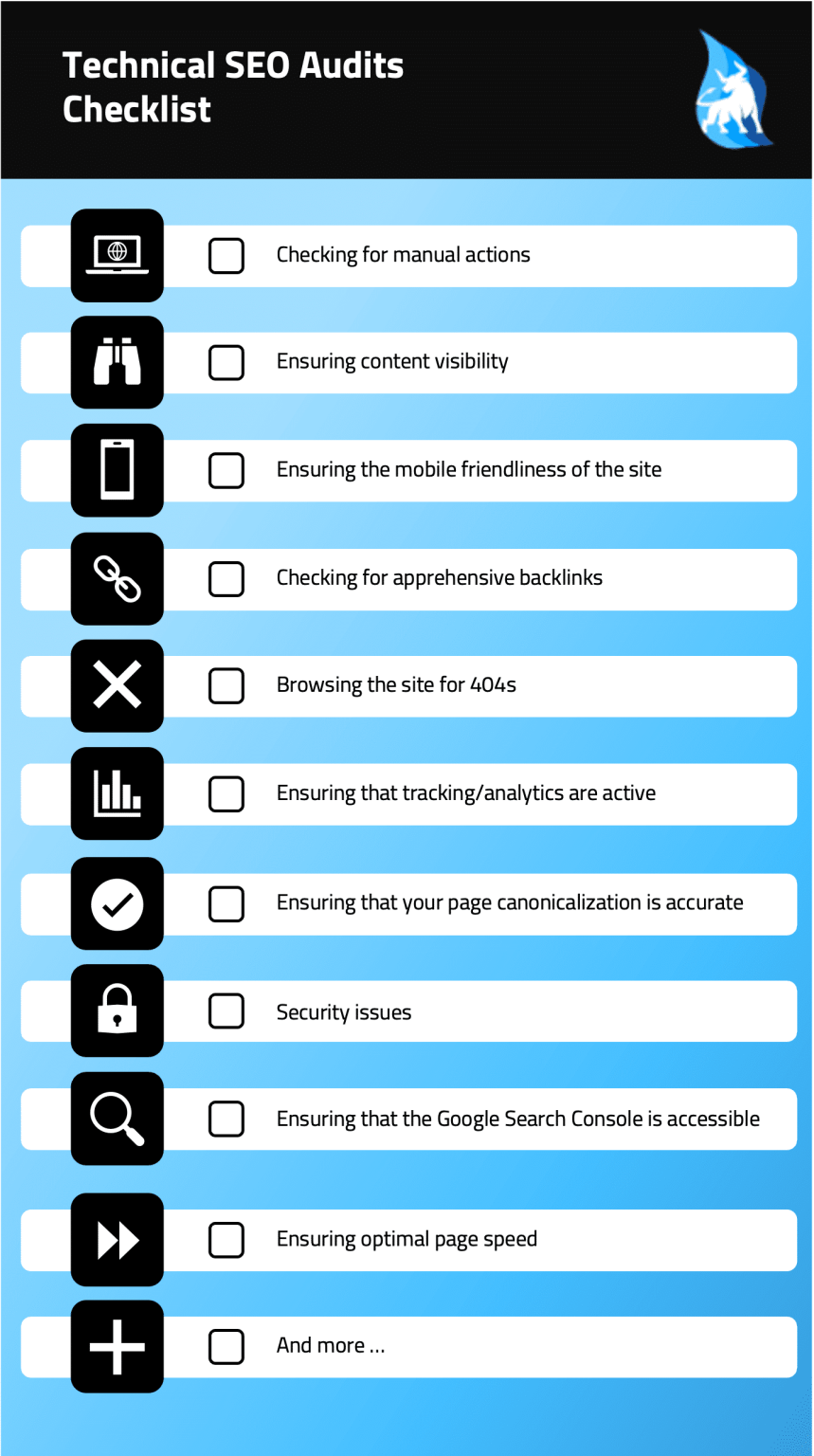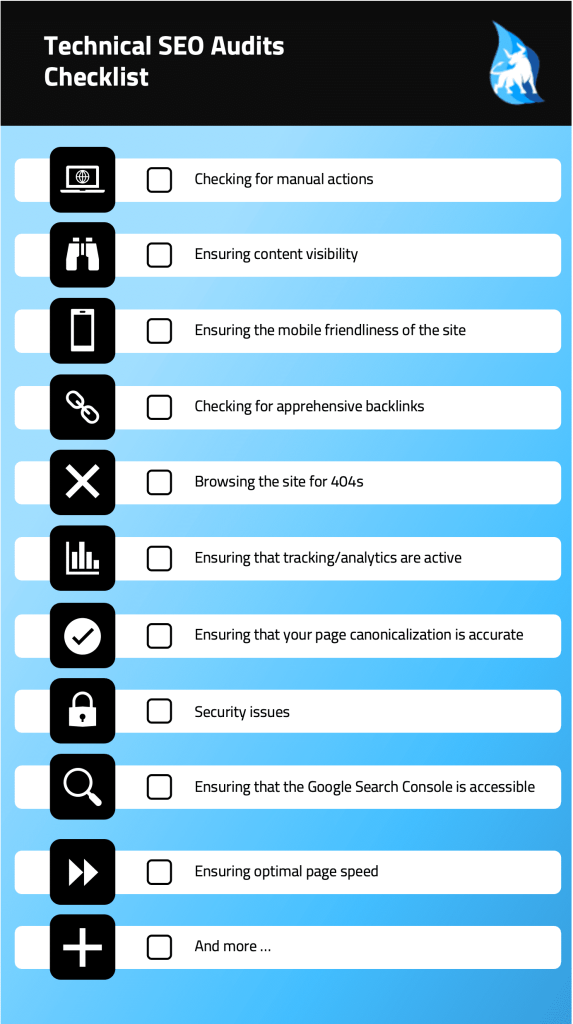 When conducting an in-depth technical SEO audit, there are certain components you need to be aware of. This includes:
Analyzing page speed & overall site speed
Proper XML sitemap
Checking for broken links
Reviewing robots.txt
Optimizing page titles and descriptions
Evaluate site architecture and internal linking
Monitor 404 errors
Investigate duplicate content issues
Optimize images
Utilize on-page features
Let's take a closer look at each.
Analyze Your Page & Site Speed
Use Google's PageSpeed Insights to check the performance of your website and see which areas require improvement.
This is something you cannot overlook, as page speed directly affects user experience and can have a significant impact on your SEO. In fact, people are more likely to navigate away from your website if pages take more than a few seconds to load. From there, they might even visit a competitor.
In a case like this, they may never come back to your website.
Having a Proper XML Sitemap
It is important that you have a proper xml sitemap so that there is a list of the main pages of the website so that Google can properly crawl your site. Google needs to be able to understand what are the main important pages so that they can be crawled. Google takes into account the crawl demand and capacity and uses that to determine your crawl budget which tells of how many pages that will be crawled on your site on a particular day.
Review Your Robots.txt File
Make sure you have an up-to-date robots.txt file that allows search engines to crawl and index all of the important pages on your website. This file can also be used to block certain URLs from being indexed by search engines.
It's important that you familiarize yourself with the robots.txt file and make sure it is properly set up for your website. The good news is that you don't have to be a coding expert for this to be accomplished. There are tools available that can help make the process easier.
For example, Google's Search Console allows you to easily configure and manage your robots.txt file. You can even get your core web vitals from google search console as well.
Optimize Page Titles and Descriptions
Create unique, descriptive page titles and meta descriptions for each page in order to increase visibility in SERPs (search engine results pages).
These titles and descriptions should include important keywords related to the content, which can help increase click-through rates. Make sure that you're using character counts appropriately so your entire title or description isn't cut off in SERPs. Otherwise, people might not click on your website.
Even a simple detail like this could affect your overall traffic. For this reason, it is crucial to prioritize on-page optimization.
Evaluate Structure and Internal Linking
Analyzing your website's structure will help you identify potential issues. Problems like broken links, redirect chains, and too many levels of navigation can have a negative impact on your website's performance.
It's essential to create internal links with descriptive anchor text that points to other relevant pages within your site. This helps users navigate through the website while also giving search engines an idea of what each page is about. Over time, this can help boost your ranking factors for those pages.
You also need to utilize an effective hierarchy of HTML elements. This includes headings, paragraphs, etc.
Doing so will create a more organized and structured website. In turn, it will become easier for users to find the information they're looking for. Additionally, this hierarchy will improve your website's crawlability.
Search engines can easily identify the main topics of each page.
Monitor 404 Errors
Identify and fix any broken or dead links on your website that could be affecting user experience. These links often lead to a 404 error page and can be caused by misspelled URLs, incorrect syntax, or when content has been moved without updating the link.
It's important to check for broken links regularly as this will help your visitors navigate your website better. It also helps search engines crawl pages more efficiently.
In contrast, 404 errors will result in visitors leaving your website before they find what they're looking for. As previously mentioned, they might then visit the website of a competitor.
Investigate Duplicate Content Issues
Make sure there is no duplication of content across different pages or variations of URLs that could be negatively affecting rankings and organic traffic performance. This is often due to cannibalization, resulting from search bots attempting to index multiple versions of the same page instead of one single version per URL type (mobile/desktop).
Unfortunately, it can have a negative impact on your SEO strategy.
Optimize Images
Ensure all images are compressed properly before being published.
This can help reduce website load times by lowering file sizes significantly (especially important for mobile users since they often have limited data speeds and resource availability). Optimizing all of the images on your website will drastically improve your load speed.
As such, it is one of the best website improvements you can make.
Utilize On-Page Features
Add additional information about each web page using markup tags such as microdata Schema markup language.
Doing so can help indexers better understand what the content is about, allowing them to show more relevant search results while commonly displaying rich snippets. It can also significantly improve click-through rates over other competing websites with less complete information presented within SERPs (Search Engine Results Pages).
How Can I Get Started?
The best way to get started is by working with a professional. They can help you assess your current website, identify any potential issues, and devise a plan of action for optimization.
This will help ensure that all aspects of your website are optimized to improve the user experience. When searching for someone to work with, look for someone who is experienced and can provide a detailed audit report and plan of action.
This will help you see the areas that need to be addressed first. This will also provide an understanding of what changes need to be made.
They should also explain how they plan to make those changes so you understand the process. Take a look at their past reputation and portfolio to make sure that they can work on your website successfully. This will help you choose the right person for the job.
Finally, have a clear understanding of what needs to be done and what results are expected. Having a plan in place will ensure that all tasks are completed accurately and efficiently. It will also help you measure the success of your optimization efforts.
Technical SEO Is Easier Than It Seems
By conducting a technical SEO audit, you can ensure that your website is properly optimized for search engines and maximize its potential for organic traffic and conversions. As long as you keep the above information in mind, you'll be well on your way to having a robust and efficient website that is optimized for success.
Looking for more information on how we can help? Feel free to get in touch with us today so that we can better assist.