Introduction
Digital Marketing is the hot new thing for 2023 and beyond. Company's of all sizes small, medium, and large look to use online marketing to get ahead. In this article the Cindtoro Digital Marketing team will take you through all things internet marketing and help you get started. This guide was made for people who are looking to improve their online marketing regardless of the type of business. Trust in the Cindtoro team for highly useful content about digital marketing.
What is Digital Marketing?
Digital Marketing is the practice of marketing your business online to potential customers using any online channel that requires a phone, tablet or computer of any kind. Digital marketing is used to reach engaged audiences who have expressed interest in your products or services. No matter what type of business you own or manage online marketing can be used to support your companies unique needs effectively.
Why is Digital Marketing Important?
Did you know that as of January 1st of 2023 there are currently about 1.9 billion websites? If you are not marketing your business online people will not be able to find what you offer. Marketing is what keeps you ahead of your competition no matter if that is through social media, digital ads, SEO emails or even digital billboards. Ask any agency "what makes as a successful marketing strategy" they will tell you that robust digital strategy using multiple advertising channels is highly recommended.
What is Not Considered Digital Marketing?
Traditional marketing is the common term used to describe anything outside of the digital way of marketing. Traditional marketing tactics are things such as print, broadcast, direct mail, phone, and outdoor advertising like billboards with the acceptation of digital billboards of course. Some other forms of traditional marketing also include newspapers or radio.
History of Marketing
The first step toward modern advertising came with the development of printing in the 15th and 16th centuries. In the 17th century, weekly newspapers in London began to carry advertisements, and by the 18th century, such advertising was flourishing. Modern forms of marketing and advertising was started by Thomas J. Barratt also known as "the father of modern advertising" in London in 1908.
Thomas worked for the Pears Soap company, Mr. Barratt crafted a series of effective advertising campaigns for the company products which revolved around the use of targeted slogans, images and phrases to influence people to purchase the soap. Thomas J Barratt stressed the importance of a strong and exclusive brand image for Pears Soap. He also believed in the idea of continually emphasizing the product's availability through saturation campaigns. In modern use saturation can we swapped for advertising frequency.
Digital Marketing Channels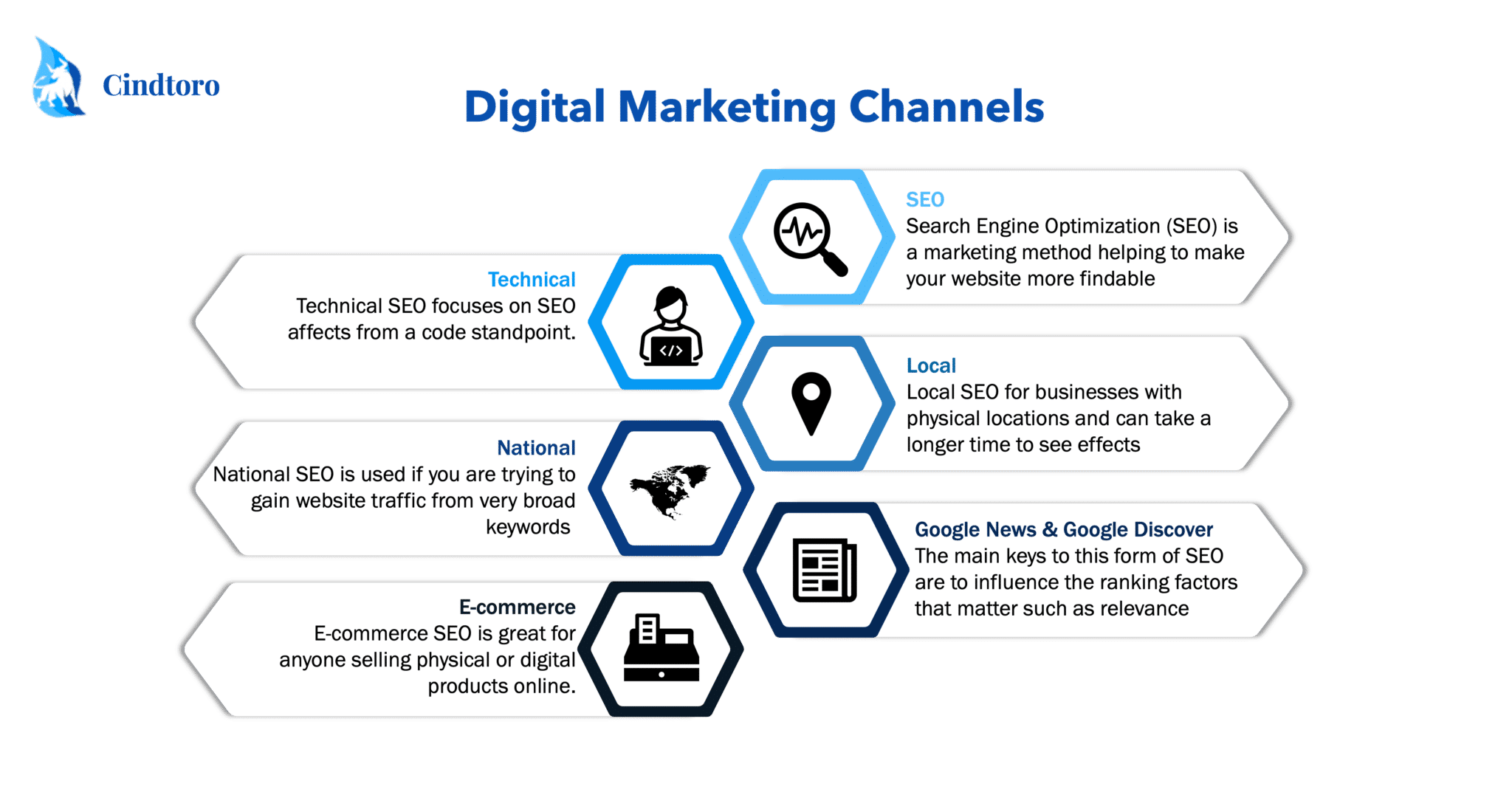 There are numerous types of online advertising channels to achieve your business goals: Here are some of the most important channels to consider when building a marketing strategy. The Cindtoro marketing team has experience with every one of these marketing methods.
SEO
Search Engine Optimization known as SEO is a marketing method that involves making your website more findable on search engines by optimizing your website. This digital marketing method can be performed on any website builder: WordPress, Drupal, Shopify, WooCommerce, BigCommerce and more. Some of the ways to increase a websites SEO traffic include things such as such as backlinking, bookmarking, SEO content creation, as well as improving your websites on and off page SEO. There are also many different types of SEO all with different use cases we will dive into each one of these forms of SEO below:
Technical
Technical SEO focuses on the aspect of website crawability. This form of SEO marketing is the most advanced. Technical SEO specialist will optimize website title tags, H-tags, XML sitemaps, alternative text and any other machine related aspect helping search engine crawlers understand your website. Essentially, technical SEO affects how a search engine looks at your website from a code standpoint.
Local
Local SEO is useful if you own a physical store or if you are trying to rank keywords in a particular location. The ranking factors that influence this type of SEO are things such as customer reviews, your google my business profile, a users location, their as IP address and more. Depending on the type of business and the geographical location local SEO can be complicated, and can take a long time.
National
National SEO is used if you are trying to gain website traffic from very broad keywords that do not have a geographical location attached to them. National SEO can also called enterprise SEO. National SEO takes the longest amount of time to rank sets of keywords because of the content creation, backlinking, and other technical factors that must be considered. A websites authority must be assessed for broad match keywords. Once the keyword research phase is complete a site audit must be done to fix any underlying issues. Followed by reverse engineering the Google search results to identify why certian websites rank well for a given keyword. After this a proper SEO strategy can be undertaken to improve website traffic.
Google News & Google Discover
Google News / Discover SEO is used for publishers of news related content. Google News / Discover SEO is very fast paced. Search results can change by the hour by hour or minute by minute. Google News can be influenced by hitting 8 different ranking factors outlined in the Trust Project. When it comes to Google News or Google Discover the main keys to this form of SEO are to influence the ranking factors that matter. Learn more about these ranking factors by going here
E-commerce
E-commerce SEO is great for anyone selling physical or digital products online. E-com SEO can be performed on platforms such as Shopify, BigCommerce, WooCommerce, Square and Wix. For an e-commerce website digital marketing is 100% necessary. Companies who have online store fronts must consider all aspects of digital marketing: pay per click, email, social media, content marketing and CRM integration to name a few. Using all of these services combined will provide the best shot at success with any e-commerce business.
Pay Per Click (PPC Advertising)
A very common term for digital marketers is Pay Per Click also known as PPC advertising. This form of internet marketing is highly effective for advertisers who know how to "pull the correct levers" and adjust targeting signals based on the data advertising networks output. There are many types of pay per click digital advertising channels to use.
Linkedin Ads
With hundreds of millions of users to target, LinkedIn is a great platform to reach business owners and C-level executives alike. With the power of LinkedIn digital advertising you can reach these users by their job titles, companies they work for, past search history, and much more. A big reason why LinkedIn is such a powerful platform for digital marketing is the 1st party data a user must submit to use the platform. In other words advertising traffic from LinkedIn is highly qualified because the platform incentivizes people to use their actual job experience. Think of LinkedIn like an online resume.
Snapchat Ads
Snapchat Ads are good for people who are of a younger audience if your product appeals to anyone within the ranges of 18 to 35 year olds then advertising on Snapchat is a good idea.
Meta / Instagram Ads
Its no surprise that Facebook and (now rebranded as Meta) Instagram digital ads made this list. These digital marketing platforms offer some of the most advanced forms of advertising targeting. Age demographics, past search history, a users interest and even advanced forms predictive modeling to understand what people may do in the future. Some of the best types of digital ads these channels have to offer are: in-feed ads, story ads, image and video ads.
Google Adwords
One of the most well known forms of digital advertising is by-far Google ads. October 23, 2000 was the exact date that Google ads was released. Google ads have changed the way that we have digitally marketed to potential customers forever. Google ads operates on a keyword buy process.
So if you want to buy the keywords digital marketing agency you will pay on a cost per click basis. Each keyword that you are bidding on has a different cost per click. The cost per click (CPC) is determined by the level of competition digital advertisers face for a given keywords. Keywords that are profitable for advertisers typically have a higher cost per click then keywords that have a lower cost per click. A keywords CPC will also help you generalize a monthly ad spend budget.
Email Marketing
Email Marketing is an effective way to reach warm leads who know like an trust you. Harnessing the power of email marketing you can drive traffic to your website, gain new leads with email capture forms, educate your audience on your products or services. Email marketing can be used with a landing page to drive users from a brand awareness stage of your business all the way down to making a purchase. Effective email marketing takes both time and understanding regarding the right types of content your target audience want to see. But when done properly the results will speak for themselves
Social Media
Social media marketing is another great tool that businesses can use to gain trust with customers and in 2023 if you are not using social media then you are certainly falling behind companies that are. You may have been wondering how long does the average person spends on social media? The answer is about 2.5 hours each day. With such an engaged audience not using you certainly don't want to make these social media marketing mistakes
Proper use of social media revolves around knowing your target audience and creating content that resonates with them. If you are roofing company then your content should be focused on educational content on roofing related services or work. Social media can also be a good place to show users testimonials of past clients.
A social media platform has many ways to reach audiences, you may be familiar with Meta / Instagrams in-feed post, stories and reels. When planning a social media strategy make sure to use as many types of content types as possible because algorithms like to see a variety of content. Another thing to consider is the use of multiple platforms, Instagram, TikTok, Snapchat, Facebook (Meta) and even Google My Business (now called Google Business Profiles) can be used to reach new customers who are looking for your product or service
Content Marketing
The use of custom content marketing for your business is critical if you want to attract and retain a quality engaged audience. Content marketing is essentially the creation of various types of content that your audience will find useful. Examples of this content could be: social media posts, reels, Youtube videos, blog articles, pay per click ads, emails, landing pages and much more.
The role of content in digital marketing can be summarized in a few simple words "content is king." Keep your target audience engaged using as many marketing channels at once while using a consistent brand message and watch what happens to your business growth over time! To use this digital marketing strategy correctly focus your content generation on both education and sales related material for your target audience.
Digital Public Relations
You may be wondering how public relations made the list of digital marketing methods. For starters there are two different types of Public Relations. Traditional and Digital Public Relations (PR) Lets define each one.
Traditional PR: uses advertising avenues like newspapers, radio, billboards, TV, magazines and books to reach a target audience.
Digital PR: utilizes online channels, such as social media, email, websites, paid ads and SEO to disseminate information.
Due to the reach of the internet a digital public relations strategy is an excellent choice to increase your company brand awareness and overall exposure online. Depending on the size of your business consider using both traditional and digital pr combined
Affiliate Marketing
Affiliate marketing in digital marketing revolves around an advertising model in which a company compensates third-party publishers to generate traffic or leads to the originally company's products and or services. Affiliate marketing traffic can be generated from many platforms like social media, blogging and news websites, paid ads and even traditional ways like magazines, books or other forms of physical marketing. With traditional marketing methods the Cindtoro team recommends using a QR code generator to track what channels work best.
Digital marketing Tools We Use Or Recommend
To make digital marketing work effectively you need marketing data. At Cindtoro we are no strangers to data. Our marketing team tracks everything we can: inbound leads, # of social media post, paid ads, click through rate (CTR) impressions, average keyword position for SEO, email performance and much more. This next section will cover the digital marketing tools we use and what they track.
SEMRush
SEMRush is a digital marketing tool with a growing suite of features. With SEMRush you can manage social media post, perform technical SEO audits, do keyword research and much more. The domain authority audit helps provide a good understanding of a websites overall SEO traffic. Interested in getting your own SEMRush account? You can get one here by clicking this link.
Google Analytics
Google Analytics is a tool developed by Google to track website traffic and performance. Some of its most useful features are understanding average time on site, number of page views, website scroll depth, top performing pages and site exits to identify where users are leaving your website. Google analytics is also used for technical SEO Which helps to increase a website's visibility and ranking by identifying traffic issues that may be taking place.
Google Search Console (GSC)
Google Search Console formerly known as webmaster tools is a search engine optimization tool. This digital marketing tool is used to read & analyze a websites performance from an SEO perspective as it relates to the search engine results pages or (SERPs). Search Console tracks the following things for a website: impressions, clicks, click through rate (CTR), average position, indexed pages, core web vitals, mobile vs desktop performance, Google news and discover performance. Search Console also helps with other SEO issues.
Google Data Studio
To gain an understanding of marketing data sometimes you need to visually see charts and tables so you can identify trends and performance improvements. This is where Google Data Studio (now rebranded as Looker Studio) comes into play data studio is a data visualization tool that you can use to create custom digital marketing reports for you or your clients. Not only do these reports look amazing but the amount data you can funnel into them is quite impressive.
Did you know that Google Looker Studio has over 600 different data connectors to visualize data? Some of the most popular data connectors are: Google Sheets, Analytics, Adwords, and Search Console. Looker studio also has integration with HubSpot and other popular software companies.
HubSpot
Hubspot is a well known digital marketing platform that also offers a suite of useful tools. The HubSpot platform allows you to do some of the following things: marketing automation, maintain a CRM, customize workflows, manage content, analytics, build websites and more. Like Google Looker Studio, HubSpot can also connect into multiple different platforms via an API to create a custom solution for your digital marketing needs. HubSpots main value is the ability to take a vast amount of marketing data and segment it into one central location. Interested in getting a Hubspot account?
Define marketing goals
Defining marketing goals is one of the most important things you can do before you get started in digital marketing. The process can be quite a challenge. So start to ask questions like these:
Questions To Define Business Goals With Digital Marketing
What would you like to accomplish?
Without knowing what you want to accomplish with digital marketing it will be very difficult to put together a proper digital marketing strategy. Are you looking to increase brand awareness, website traffic, create a better user experience (UX)? general questions like these will help you get started learning what you want to do and why.
Is my current branding in-line with my company image?
Asking yourself questions like is my branding in-line with my company image? Could help you make determinations if its time to refresh your social media accounts, website, digital presentations, or traditional marketing materials. Depending on where you are looking to take your brand it could also signal time for a complete brand re-redesign.
What is my timeline to accomplish marketing goal?
Defining digital marketing timelines is very important. Some marketing goals will take longer to achieve then others will. Knowing what your timeline looks like will help you focus on the most important marketing task to achieve your business goals.
How do I improve client retention?
Improving client retention is a goal that all companies should have if you have 100 customers but you can't keep them because a gap in your server then you are lacking in client retention. It is time to consider ways to improve this.
Once you have answers to some of these questions it is time to move on to learning how to define your target audience. Understanding who you are looking to reach will help you build a sound digital marketing strategy and will improve your overall marketing ROI overtime.
Define your target audience
Defining your target audience can come down to answering simple but effective questions like where would would my ideal target audience be? What do they do for fun? How old are they? What types of marketing platforms would they use? Are there colors that appeal to your audience more then others? What types of messages are they expecting to hear or see? Questions like this can help you define your target audience and set your self up for the strategy process.
How to craft a digital marketing strategy
Picture this your a business owner looking to increase their leads and sales fast and effectively. What do you do? One of the ways you could do this is with SEO. A good SEO strategy will take time and energy to work effectively. So knowing how to build an SEO strategy will be important to your long term marketing success. But, since SEO takes a long time to see results you may determine that a better course of action is to hire an SEO agency to do all the work instead of learning SEO on your own. You can then plan a paid digital ads strategy to generate website traffic quickly while the SEO strategy is underway.
Learning resources
The Cindtoro Digital Marketing team understands that digital marketing can be an in-depth complex world. To help you learn more about online marketing we created a list of learning resources that you will find useful.
Measuring Performance
Wondering how you know if your marketing efforts have paid off? Measuring digital marketing performance in digital marketing is undoubtably one of the most important things for any campaign or effort you undertake. By using some of the tools listed above you can ensure that you have the right tools for the job. Here are some of the most important digital marketing metrics to track.
Cost Per Lead
Cost per lead is exactly that! The cost you are paying for inbound marketing leads as a result of your overall digital marketing strategy or channel. knowing your CPL can help you make performance improvements in the future.
Conversions
Conversions can be counted for almost anything, page views, scrolls, form submissions, phone calls and much more. The important thing to note here is to track the conversions that matter to you the most so you can improve those things.
Conversion Rate
The conversion rate helps you know if you are on or above the conversion rates for your industry. Think of these as benchmarks. Conversions rates can help prove the effectiveness of digital marketing efforts overall. They can be used for ads, SEO, emails and much more.
Leads by referring source
Leads by referring source will help you identify what channels are driving the most ROI for your business overall. If you see more sales or conversions coming from emails vs social media then focus your marketing efforts on what brings the most return on investment.