SEO for Real Estate Agents: The Difference Between Good and Great Agents
Starting out in the real estate business can be tough with so much competition in different local marketplaces. People who are looking to generate real estate leads go to networking events, send mailing lists, and cold-call potential prospects. But, what if there was a better way to do it?
There are many different digital marketing services to generate online leads in real estate, one being SEO for real estate agents. Here are a few reasons why as a real estate agent you need real estate search engine optimization (SEO).
Use SEO for Higher Search Ranks
Investing in search engine optimization is one of the best ways to ensure you have high rankings on Google. There are many benefits for being ranked high on search engines like better visibility, and trust in the eyes of the user.
Studies show that 75% of users never reach past the first page of Google. So, if you want to be seen by more potential customers investing money into Search Engine Optimization for real estate agents is an absolute must.
Use SEO to Find New Leads
Leads are the lifeblood of all businesses as a realtor you need leads to grow your business If you did not need them you probably would not be reading this article. SEO drives real estate leads by increasing search ranking as we touched on above.
SEO for real estate agents also generates leads by capturing better search quality meaning the leads that are generated through SEO have higher conversion rates as opposed to other online marketing services.
Better Trust in the Local Market Place
By reaching the top of Google you can effectively position your website in front of the users that are looking for your product or service. Doing this will help you build more trust with potential clients and help you close more deals.
Did you know 93% of people start their online experience with a search engine? To give you an example of what a first page Google ranking looks like check out the photo below.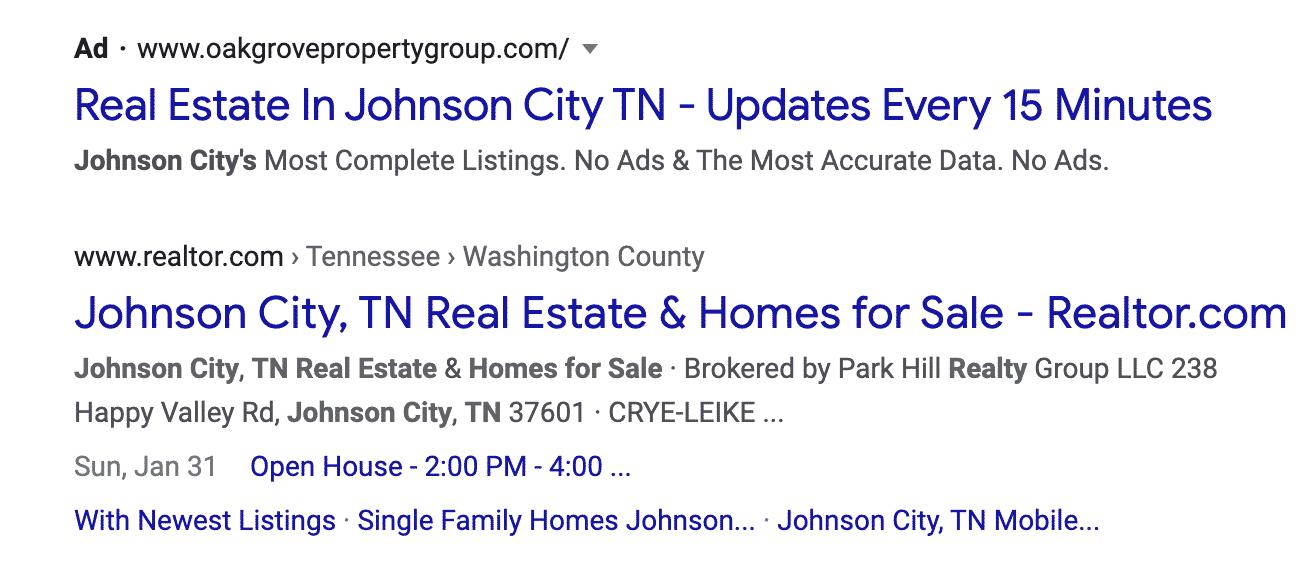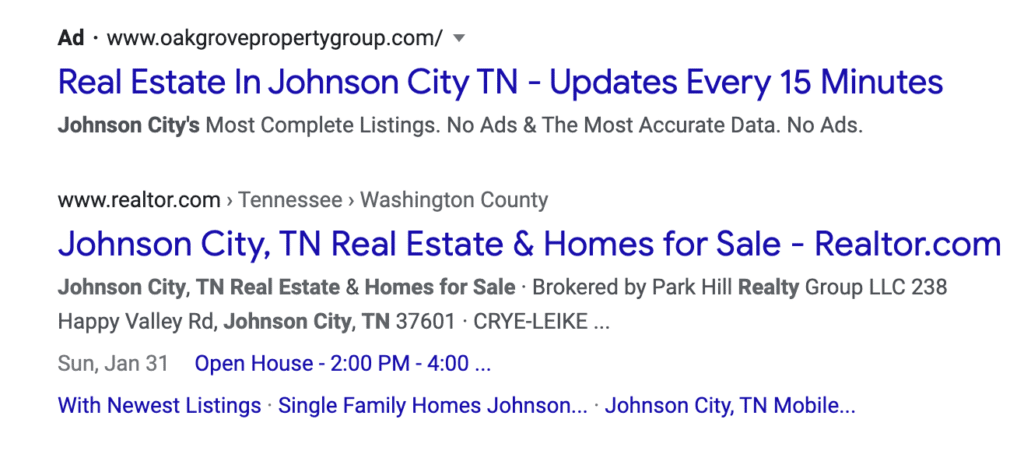 Notice how the "Ad" section appears first. The first rank of Google starts after that.
The first page and first rank of Google is the "holy grail of SEO". Studies show websites that reach the top rank of Google receive 25% or more organic search (unpaid) traffic for a given keyword phrase. Once you get to the second and third rankings the average click through rate (CTR) drops down to 15% – 10%
Use the Best Real Estate Agent SEO Company
In order to reach the top page of Google make an investment in SEO for real estate agents. In the world of SEO you get what you pay for cheaper is not always better.
A cheap SEO company may get you ranked quickly, but the chances are they are going get your website penalized by Google for using SEO tactics that go against search engine guidelines.
An experienced SEO company will use the best SEO tactics so you can: achieve higher search rankings, find new leads, and build better trust in your local marketplace. Contact us today and speak to our experienced SEO specialists about your needs.